My Cockstar Army with the music of Joseph Gettright weekend
I had a blast this weekend. It was Dru from Cockstar Army and model Tracy Nova's birthday and we started off at Highlands in Hollywood on Friday and on Saturday we were at club Flight in Huntington Beach.
Friday night Byron swooped me up and we headed to Highlands. It was sooo much fun. I like going to Highland's on Fridays because that's when I get to run into my party people haha. Jamie's ass was there and you know she wanted me to introduce her to the go go dancers lol. I remember leaving at the end of the night but not wanting to go because the deejay played Estelle's Come Over. I found myself dancing by myself while Jane was waiting at the door for me haha. After the club we ended up with a party of 14 at Thai Patio and I didn't get home till 4am.
Saturday night…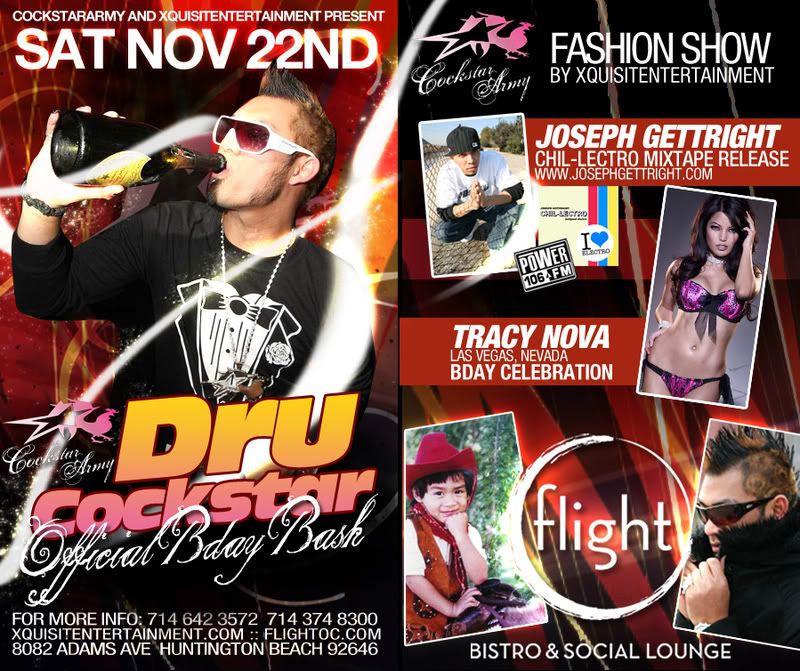 Jaycee was deejaying the party so we had to be there early. I picked him up and then picked up Jaime. When we got to Huntington Beach we were hungry and found ourselves in the Del Taco drive thru before entering the club. When we got there we walked in with our Del Taco. One of the guys at the door stopped us and said we couldn't bring our food in but once I said "I'm with the Deejay" he let us in HAHA! Jamie and I were laughing soooo hard. As Jaycee was setting up Jamie and I were grubbing on our Del Taco. YAY for 99 cent chicken soft tacos lol. The deejay stuff wasn't set up like it was supposed to when we got there so we had to wait a little bit before the music started. Once he was all set up it was on and crackin'.

I guess I should refer him as Joseph Gettright in this blog other than Jaycee. He has been in the process of transitioning his deejay name from Jaycee J to Joseph Gettright and at Flight the EmCee introduced him as 'Jaycee from Power106′ but during his set he played his "Joseph Gettright". I know he is very maticulate in the songs he chooses to play because he observes the crowd quite often… and if he doesn't like the song he'll still play it for the ladies haha 😉 Even though he only spinned for an hour and fifteen minutes he still got the party crackin'. I know there were plenty of songs he wanted to play but couldn't due to time constraints.
Not only was this party for Dru and Tracy but it was also Jaycee's Joseph Gettright Mixtape Release Party. By the end of the night he was out of mixtapes and I know he brought hella.
(Click to download his Chil-lectro mix)

After four Jager shots, my night was fulfilled when he mixed his Electro with Whitney Houston's I Want To Dance With Somebody. I was singing it from the top of my lungs haha. Boy… I was feeling it soooo much my hair was soaked from so much dancing. (Speaking of HAIR, if you can't tell from the pics I got my hair cut hehe) I was dancing so much I got fed up and went to my car to get my shoes… no more 5 inch heels for me, it was Ra-Boogie time! 🙂
We had so much fun, when Jaycee was done with his set it was drink time. Jamie's face was soooo red she passed up the patron. Dru tried to pass the Patron on over to me and I refused too. I had to tell Jaycee to tell them No cause I was NOT trying to mix my alcohol especially from what happened in Vegas. Good thing Jaycee was there to save me or else we all would have been sleeping in the car since I was the Designated Driver. Cockstar Army had a fashion show with a lot of hot ladies rockin his gear.
After the club we found ourselves at someones house. They put in Jaycee's CD and my happily intoxicated ass was battling Stan lol. Later on Stan fell asleep and Me, Jamie, and Jane were taking pics with him while he was snoooooozing HAHA! I ♥ Jane and Jaime!
The ladies: Me, Jaime, Tracy, and Jane

By the time we got back to LA it was 5:30am. We had good times in OC with Cockstar Army and the music of Joseph Gettright. So check out Cockstar Army at www.CockstarArmy.com and Joseph Gettright at www.JosephGettright.com when you can. Spank ya!