I'm honored that Amp Energy, the official energy drink sponsor for the WEC, asked me to be their guest Twitterer during this historic Pay Per View event for the Urijah Faber vs Jose Aldo fight Saturday, April 24th, at the Arco Arena.
I will get AMP'ed up and excited reading tweets from hardcore MMA fans that post on the Underground, Urijah Faber fans, and hot Fight Chix that dig MMA. My ultimate goal is to get #UrijahFight in Twitter's trending topics.
Help me out and spread the word just by following Amp Energy and tweeting #UrijahFight during the WEC.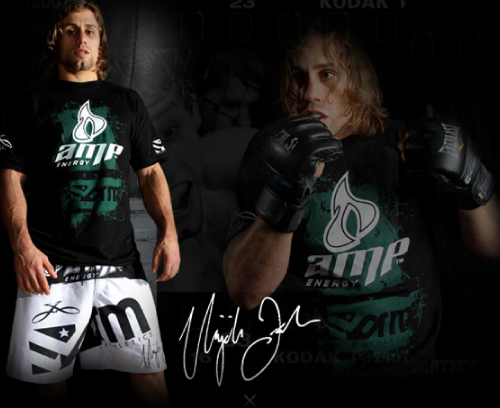 Thanks for your support!
This is one of the reasons why I love and admire Mark Cuban; he preaches entrepreneurship! Plus, he's an MMA fan.
Reading his blogs is like a prayer to rejuvenate my soul but instead it's for business to get mind right and head back into the game. This is why I had to share it with my readers. I hope I'm able to kick down knowledge like this for women one day. I took pieces from his blog that best suit me the best.
"I love the sport of business. I love the competition. I love the fire of it. It's the feeling of the clock winding down, the ball is in your hands, and if you hit the shot you win…all day, every day."
That's what success is all about. It's about the edge.
The edge is getting so jazzed about what you do, you just spent 24 hours straight working on a project and you thought it was a couple hours.
The edge is knowing that you have to be the smartest guy in the room when you have your meeting and you are going to put in the effort to learn whatever you need to learn to get there.
The edge is knowing that you can fail and learn from it, and just get back up and in the game.
The edge is knowing that people think you're crazy, and they are right, but you don't care what they think.
The edge is knowing how to blow off steam a couple times a week, just so you can refocus on business
The edge is knowing that you are getting to your goals and treating people right along the way because as good as you can be, you are so focused that you need regular people around you to balance you and help you.
The edge is being able to call out someone on a business issue because you know you have done your homework.
The edge is recognizing when you are wrong, and working harder to make sure it doesn't happen again.
The edge is being able to drill down and identify issues and problems and solve them before anyone knows they are there.
The edge is knowing that while everyone else is talking about nonsense like the will to win, and how they know they can be successful, you are preparing yourself to compete so that you will be successful.
Best of all, this game doesn't have a time limit. It's forever. It never ends. It's the ultimate competition.
It's the sport of business. It's not for everyone, but I love it."
Gosh I fuckin' love this guy! I see myself in this every day. I love a challenge. I love being put in a situation where I don't know where it will end but know where it's going. It's fun. It's the thrill. It's the chase. It's the high of closing.
It's not easy being a woman involved in a male dominated sport. I guess for the past few years, I've earned my respect, but I still feel like there's more I've got to give. Women's MMA hasn't even blown up yet. Yeah we've seen Gina Carano and Cris Cyborg fight, but the world hasn't truly been exposed to other female fighters that have played a part in Women's MMA like Erin Toughill, Tara Larosa, Amanda Buckner, Roxanne Modaferri, Megumi Fujii, Kyra Gracie, etc.
The sports come a long way and I'm going to continue to create networking, commerce, and synergy within the MMA industry putting events together. My challenge is helping Women's MMA grow… that's my edge! As women, we have more of a battle and I'm ready to put my gloves on.
Thanks for the motivation, Mark Cuban.